Claire Buck
Helping Ambitious Business Owners
To Cost-Effectively & Quickly
Grow Their Businesses
Please take time to read about my background and expertise and how we can
work together to bring about transformational results in your business.
My Background…
I work with Business Founders, CEOs and companies to build high performing emotionally intelligent environments, whilst keeping a person-centred individual approach.
Having successfully grown a chain of over 60 retail outlets, employing over 500 people and a turnover in excess of £20 million, I now specialise in working with SMEs and Business Executives on personal and business growth either on a 1-2-1 basis or with small teams of up to 12 people.
Entrepreneurial growth through managing and growing business to 20
million plus in the shoe world. CPD Personal Performance Coach,
CEC Executive Coach, NLP Practitioner, Genos Emotional Intelligence Practitioner, Tony Robbins Core100 Coach.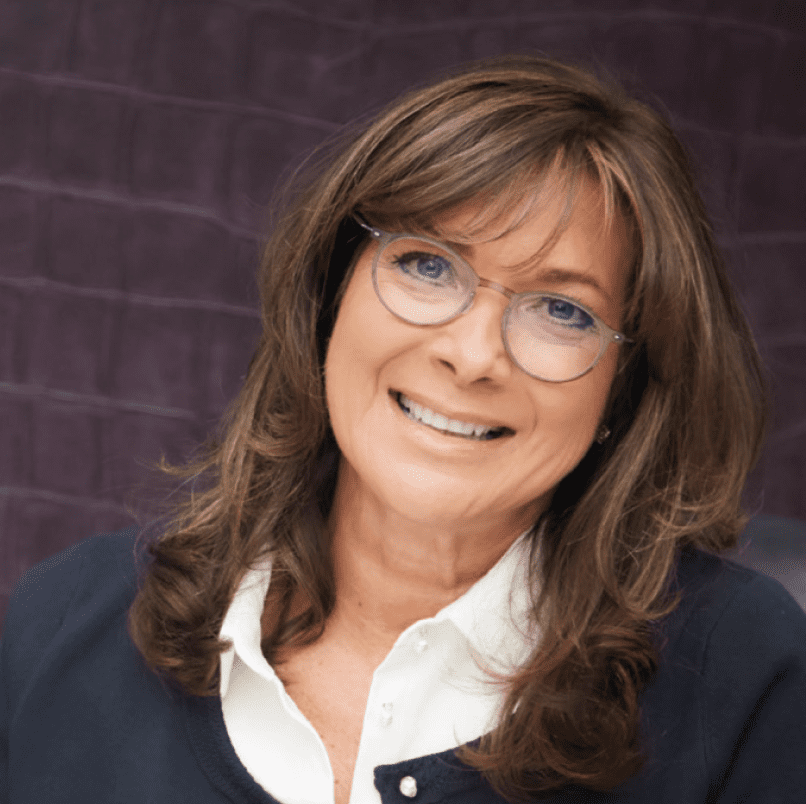 My Story
I'll start my story eighteen years ago. That's when I met my husband, Stephen. I had many life experiences before then that shaped the woman I am today, but that moment was one of the most pivotal.
I was living in London and running my own successful retail and distribution company; Stephen was based in Leeds and owned a prosperous shoe business. We had an instant connection and despite the distance we knew we had something special. After two years of commuting between cities, I sold my business and moved to Leeds.
With four children between us we had to settle into our new married life pretty fast and it wasn't long before we expanded our family.
Ellie was the result of IVF and an absolute dream come true. Just two years later our natural miracle, Jack, appeared and took our family to eight. Managing a large family and our own business was a challenge but we make a great team. What soon became apparent to me was that the tools I needed to be successful in both life and business were one and the same.
Qualities such as honesty, truth, integrity and compassion are ingrained into everything I do but being a great listener is probably my biggest secret to success.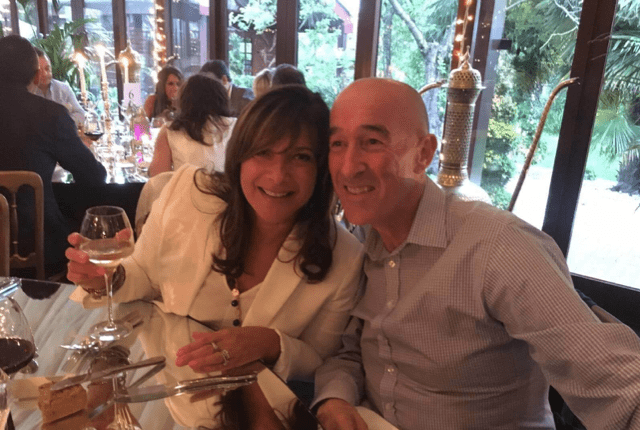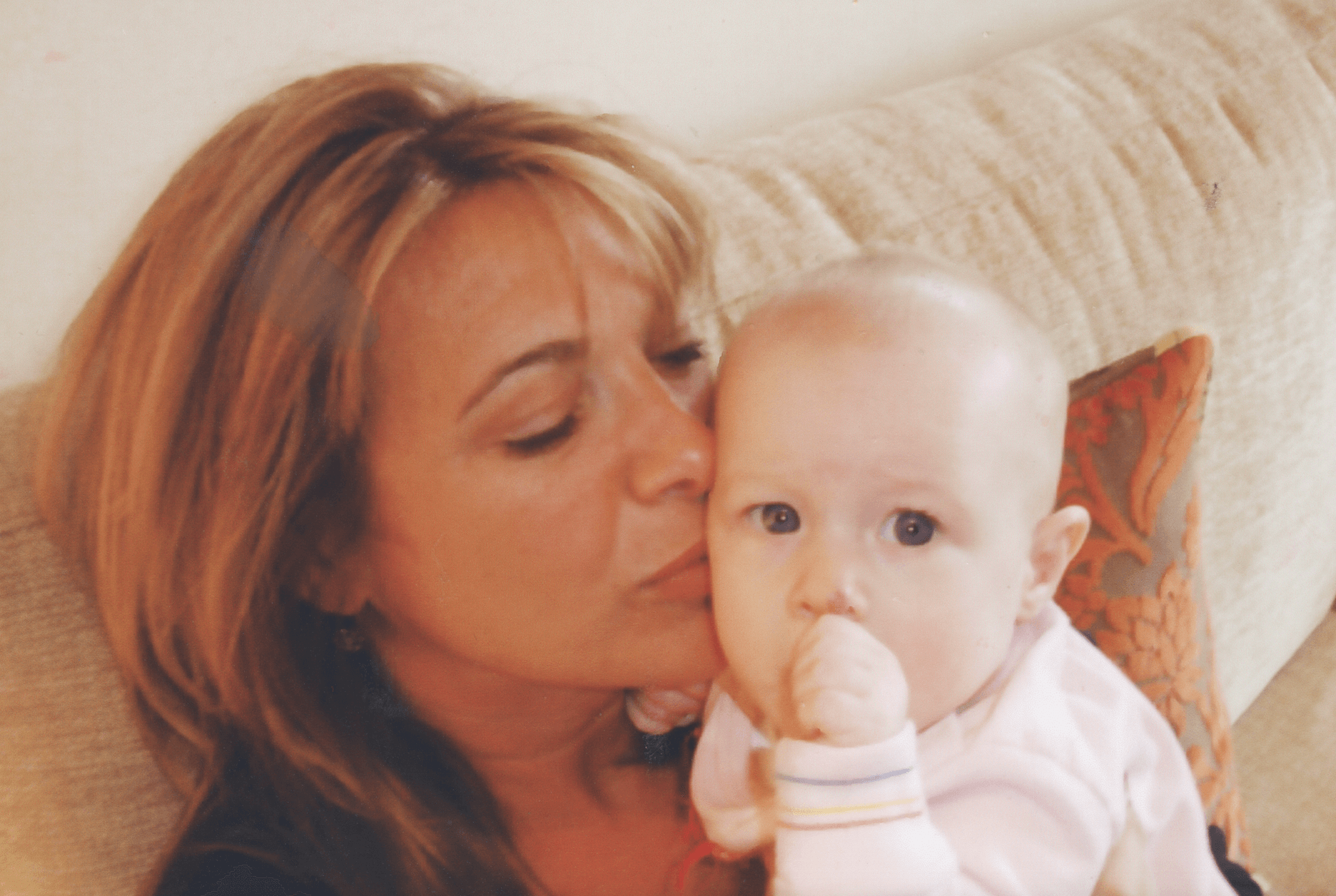 Over the years I've put my heart and soul into making sure our children have a happy, stable life as well as being an integral part of driving our business forward. We have successfully grown a chain of over 60 retail outlets with a strong e-commerce and wholesale operation, employing over 500 people, with a turnover in excess of £20 million.
In 2014 we sold some shares and I took a step back from the business. For the first few months I enjoyed my "freedom" but I'm used to being constantly challenged and my brain wasn't ready to switch off.
After taking many phone calls from people wanting my advice, or just to bounce ideas off me, I realised I had a natural talent for coaching people. Whether it was personal or professional, I was constantly helping people make positive choices and important decisions that would improve their situation.
I decided that I had something to offer that could add real value to the lives and businesses of others. I retrained. I learnt everything I could about coaching and mentoring and thought hard about the kind of people I could help. My recent training and personal development, combined with my vast experience, has enabled me to put together a coaching model that truly empowers people.
I believe that everyone has the ability to empower themselves in life, relationships and business, so I help my clients to embrace their inner strength and achieve their goals.
I want to give back. I want to share my experience with people like you.
Together we can put a plan in place to help you take steps towards the life and business you dream of.
.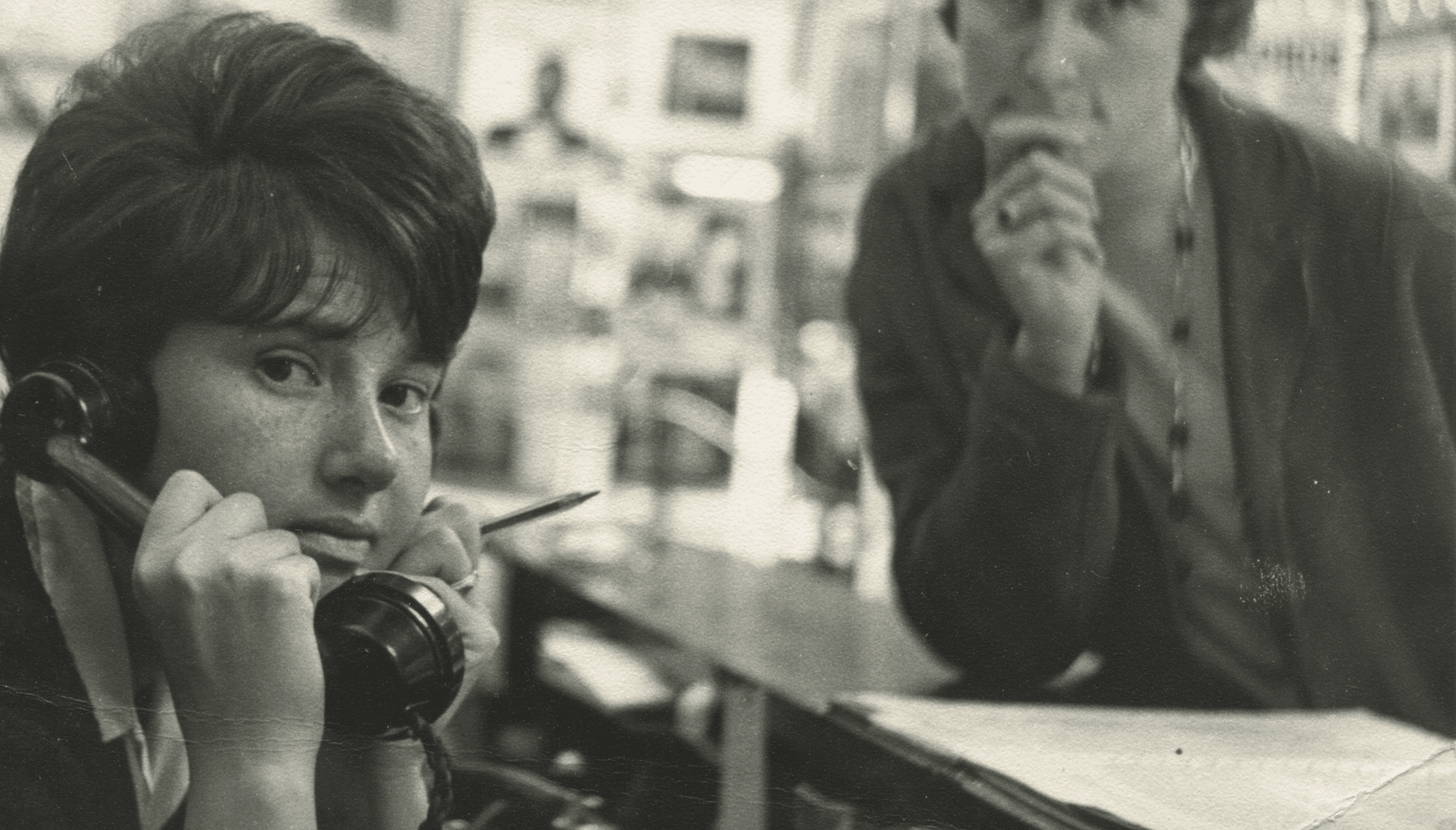 "THERE IS NO WAY TO BE
A PERFECT MOTHER…
BUT A MILLION WAYS
TO BE A GOOD ONE." (Anon)
In loving memory of my mum Trish who sadly passed away in 1992 sadly missed but never forgotten.
Core Values
I live my life through a strong set of core values that are at the heart of everything I do and my business is an extension of my life.
I help you tap the unique creative power within yourself and your team to innovate, progress and preserve the core identity of your business.
A unique person-centred innovative approach, tailor made solutions for companies that want to progress. Providing you with a safe pair of hands.
Truth
Honesty
Integrity
Loyalty
Innovation
Service Excellence
 RESILIENCE
Claire is a tireless emmisary for all aspects of personal and professional development. Her empathetic, insightful, and holistic approach to coaching is one I found extremely engaging and thought provoking.
Claire has a unique ability to provide context and clarity to what was a confusing and equivocal situation, which allowed me to view myself and the world around me from a new perspective. A level of self-awareness that I believed I already had, but ultimately I was barely scratching the surface!  
I had no idea what to expect from my sessions with Claire. Having found her by chance on the internet, I was immediately sold after reviewing her excellent credentials and business background. This was particularly important to me as I was seeking guidance at a time in my life that was in fact, the peak of my personal and career successes to date. The goals I outlined at the start of the 6 sessions, have ultimately been achieved, but via a very different route than I had envisaged prior to starting. This is a credit to Claire and her ability to look beyond face value, to uncover the emotional drivers behind a persons goals and pursuits.
I greatly look forward to the next opporutnity in which I can call upon Claire once more, to help me reach new heights in all areas of my life.
The sessions with Claire have been profound at times, making discoveries about myself and what's important to me. Claire has helped me to unravel a lot of unhelpful habits and thoughts of self-doubt. She has also helped me make to decisions and act on them so I can concentrate on what's really important.
Overall I feel so much more self-aware and if I'm aware of something that needs attention, I now have techniques to tackle it.
I would recommend Claire Buck Coaching to anyone who really wants to make changes to achieve the life they really want.
Claire can find the logic to any situation and offers advice and solutions to all problems.
As a creative, getting things out of my head can sometimes be difficult but she is one of the few people who can! She has excellent listening skills and is a natural at putting you at ease within the sessions.
She has enabled me personally to reach goals I thought were unachievable and has been key to aiding me to become the confident business woman I am today.
I can not recommend Claire enough. The benefits on the company are endless and the results from using her services are proven, with the rapid growth of the business.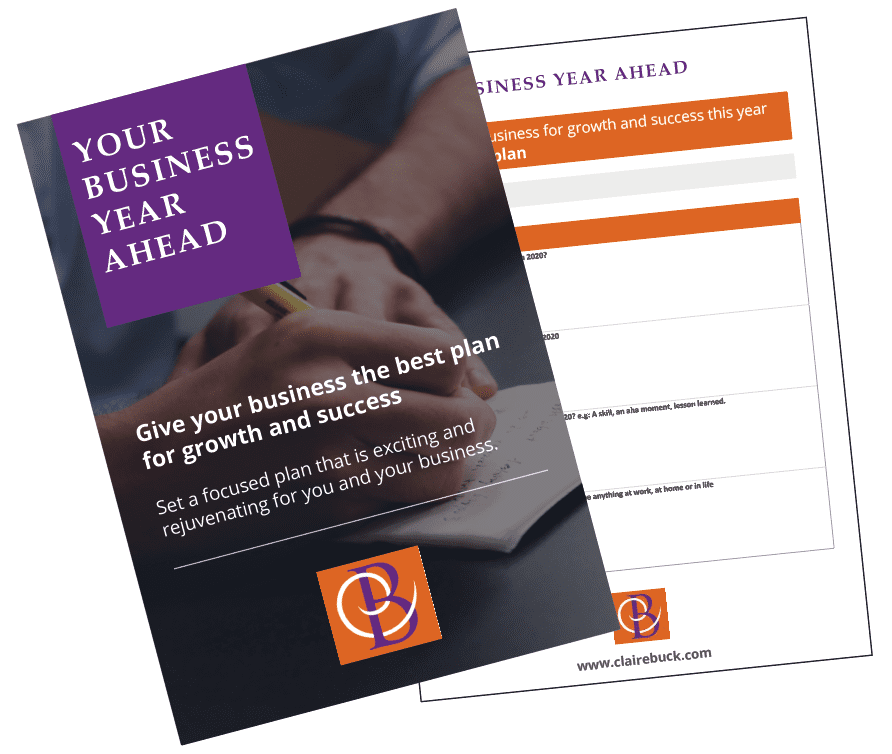 Plan Your Year Ahead
Take some time, reflect, re-set and
plan your year ahead.
Make it your most exciting yet…
Claire Buck
Award Winning Business & Executive Coach and Mentor
Helping Ambitious Business Owners Create a Powerful Platform for Growth, Alignment and Success